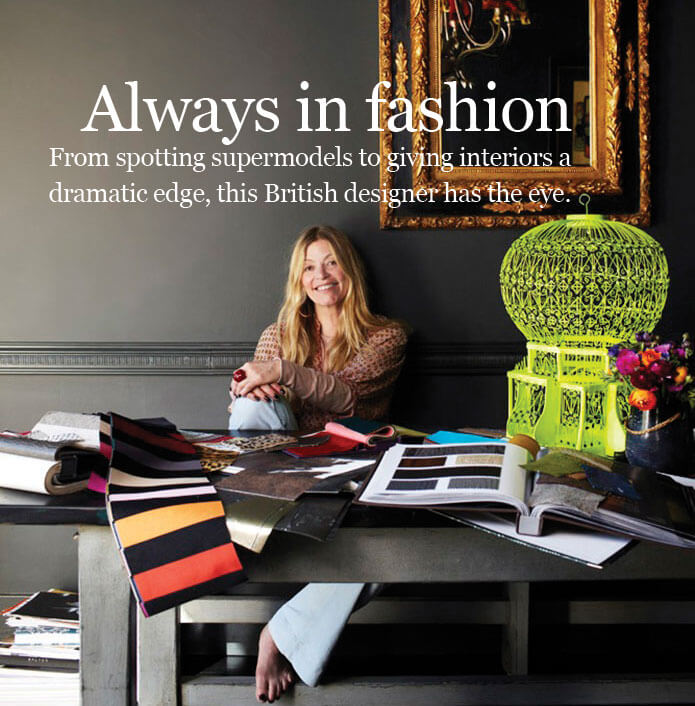 "Her eye really is at the heart of Ellis's success. Her ability to pick a future magazine cover face in a crowd is the same visual skill that enables her [interiors] work."
Belle magazine
"To say Fiona Ellis has a good eye is a bit of an understatement."
Harpers Bazaar
"Ellis is considered one of British fashion's most influential people."
Grazia
Fiona Ellis is the entrepreneur with a seriously good eye - whether she's using that talent for scouting new modelling faces or spotting the most on-trend interior styles.
Her eye for beauty and head for business combined with her style credentials and endless energy took her to the top of her game in the fashion business
From the start of her career at Models One, to her role as co-founder of Independent Models (the modelling division of ICM), which represented the likes of Helena Christensen, Natalia Vodianova, Iman and Claudia Schiffer, along the way she was namechecked by ELLE magazine as one of top 100 most influential women in British fashion
Ellis changed the face of beauty at the turn of the millennium when she discovered and launched the careers of international modelling superstars, Erin O'Connor, Alek Wek and Karen Elson
Taking a break from fashion, Ellis turned her design eye to her other interest, interiors. Setting up both her successful design studio, Ellis Eye, and co-founding an on-line interiors boutique, Brave
But she never lost her passion for fashion and now combines the best of both worlds, working on selective interiors projects, alongside scouting new faces for some of the best agencies in the business
Looking for the next big thing - whether in modelling talent or interior design? - then you need Ellis's extraordinary eye
For more details, contact:
Fiona Ellis 07545 883791